Description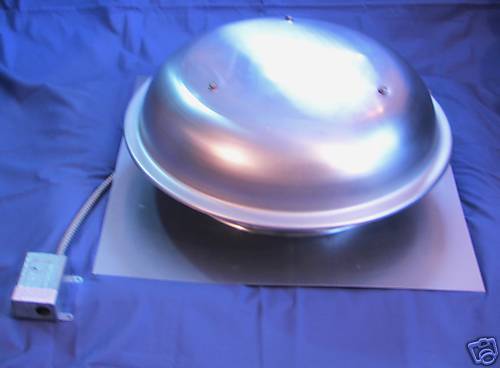 "How to Have a Cool Quiet Bedroom Even on Hot Nights with the Jet Fan Attic Fan model jf727 Roof-Top Attic Fan"
"Be Your Families Hero with the Jet Fan Attic Fan model jf727 Roof-Top Attic Fan"

With the Jet Fan Attic Fan model JF727 you can enjoy cooler temperatures inside, without feeding the greedy electric company tons of your hard-earned cash. In fact according to the Home Ventilation Institute you can save up to 30% on your cooling bill with an attic fan. The fan stops heat from backing up into your rooms below the attic. Your family will thank you for room temperatures that are 5 to 10 degrees cooler on really hot days.

Better Value
Homeowners who are staying in their homes for more than a few years want my professional quality roof-top attic fan. It just keeps running!  My Jet Fan  is a better value because it will probably still be working in 15 years, even if you never oil it.  Cheaper fans may have a warranty that covers the cheap parts, but who is going to do the work? The work-man is always the expensive part, even if you do it yourself, your time is valuable…not to mention the risk of climbing around your roof and attic. The fan's housing will never rust so even if you need a  new motor in 15 years; it will be worth repairing and you won't have to mess with the shingles.
So it will still be working when you go to sell
When you sell, your buyers home inspector will find that your Jet Fan is still working, not rusted or jammed up with animal nests. So you won't have to replace it to sell your house lose the sale!
Easier to "live with"
My Jet Fan Attic Fan model jf727 Roof-Top Attic Fan will not make that bone-crunching grinding noise either. Noise like you would experience with attic fans from the local "big mart", roofing or electrical supply company. Jet Fans precision motor really is quieter. It does not make vibration so you won't hear it resounding through the ceilings and walls. There is no common rating for vibration; like "sones" or "decibels" low vibration is what makes the Jet Fan the quietest attic fan…a smoother running motor.
The all American custom-made electric motor that is exactly two times more efficient than the motors of the mass produced attic fans with cheap foreign parts.
Jet Fans thicker aluminum dome and wider aluminum base flashing will out-last any roof and will never leak.
The Specifications of the Jet Fan Attic Fan model jf727 Roof-Top Attic Fan

I have installed around 15,000 attic fans since 1983. My All American Made Jet Fan Attic Fan model jf727 Roof-Top Attic Fan is a simple design that uses high-quality components which make it easy to install and longer-lasting:
It quietly removes 1200 cubic feet per minute of super-hot air
It covers an attic up to 2300 square feet
It's heavy gauge dome cover, keeps rain and snow out and only stands 9 inches high to the top so it will not show from the front of your home. (spun aluminum dome is .040″ thick…twice as thick as other fans dome metal) so it won't rust or blow off
It's stainless steel dome bolts with sealing washers will never leak or rust
It's wider base flashing is 24 inches by 24 inches; made for replacing other fans because it will cover any roof damage from previous attic fan installations and fit right in with your homes shingles so water runs right off. This flashing will last longer than your next three roofs and won't burden the environment by adding debris to our landfills.
It's extra heavy-duty screen is guaranteed to stop pests from getting into your attic or building a nest on top of the motor stopping it and creating a fire hazard
It's snap-action thermostat is American made so it will last the life of the fan itself, and it's accurate and adjustable so the Jet Fan goes on and off positively, reliably. Set it to shut off at 90 degrees F.
Only Jet Fan has a firestat which automatically shuts the fan off in the event of a home fire, so it is safer than other attic fans which would come on and continue to fan-the-flames endangering you and your family
High efficiency motor features of the Jet Fan Attic Fan model jf727 Roof-Top Attic Fan:
Thermal overload protection so it will never over-heat
Capacitor for positive start up while only using half the power to run
Sleeve bearings last longer in hot environments and are quieter and while they can be oiled for longer life, if it's too difficult to reach from the roof or attic, it will still last over ten years even if you never oil it and it's easily replaced. If you actually do oil it yearly, it will last up to 30 years like other motors I have seen from our American custom motor making company
120 volts, normal standard voltage
Only 1.7 amps
204 Watts, exactly ½ the wattage of other fans of equal air-flow
1/8 Horsepower
1050 rpm
No other attic fan has all of these features.
Model 727 is my middle sized attic fan and it uses only half the energy of other fans. If other "big mart" attic fans cost 50 cents per day to run, my Jet Fan will only use 25 cents a day and still move the same amount of air. My Jet Fan will save you hundreds of dollars over the next ten years when compared to other fans electrical demands, let alone the cost to replace them.
Installation
The Jet Fan Attic Fan model jf727 Roof-Top Attic Fan comes with instructions. The fan is easy to install by you, your roofer, electrician or handyman. You or your installer may need to buy common electrical parts and wiring which are not included.
Where the Jet Fan is From and How to Get One Where You Are
The unit is manufactured by Jet Fan Attic Fans, Inc. in Villa Park, Illinois. It is tested and balanced, before being packed securely. Shipping, packaging and handling cost varies by your location. I ship to USA only via FedEx Ground. Please order 2 weeks in advance. Call 630-834-9165 for rush service (5 days anywhere in the  lower 48 states)
Warranty
Jet Fan Attic Fan model jf727 Roof-Top Attic Fan has 10 year pro-rated warranty on parts.
Talk to the "Jet Fan Man"
Feel free to call me with any questions 630-327-4596 "Jet Fan Man" and please leave a detailed message.

You need a Jet Fan Attic Fan model jf727 Roof-Top Attic Fan
Jet Fan Attic Fans will force hot air right out of your attic and:
    • homeowners save up to 30% on their cooling bills
    • roof life is lengthened by keeping shingles cooler
    • resale value is added to your home
Home Ventilation Institute says homeowners may experience up to a 30% savings on AC costs with a powered attic fan. ComEd says that, "air conditioners don't have to run as often when it isn't fighting a hot attic."