Happy Jet Fan Attic Fan Owner's Review Testimonials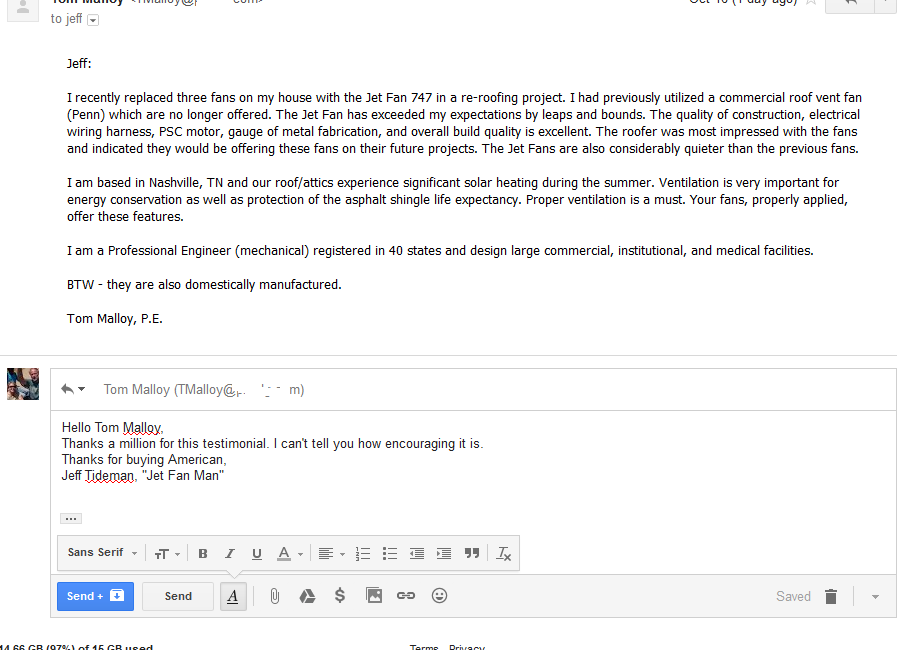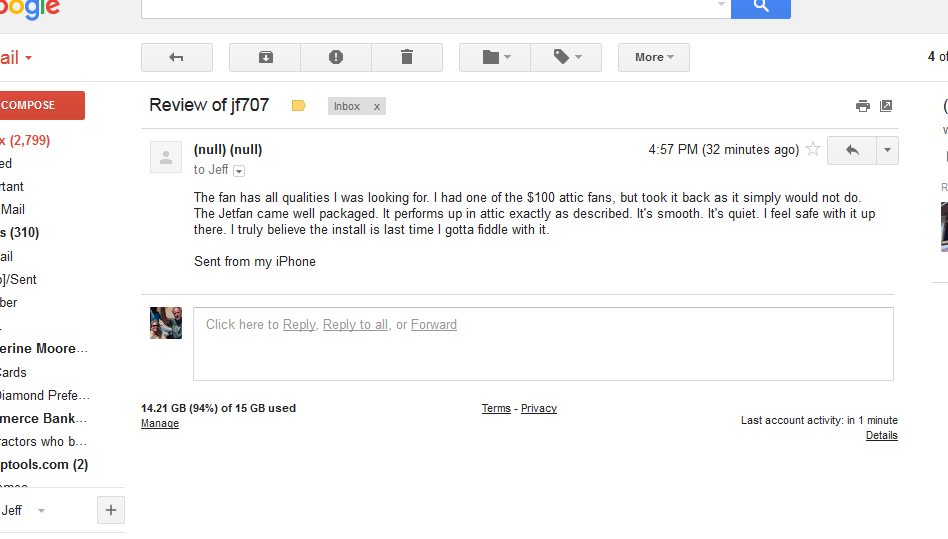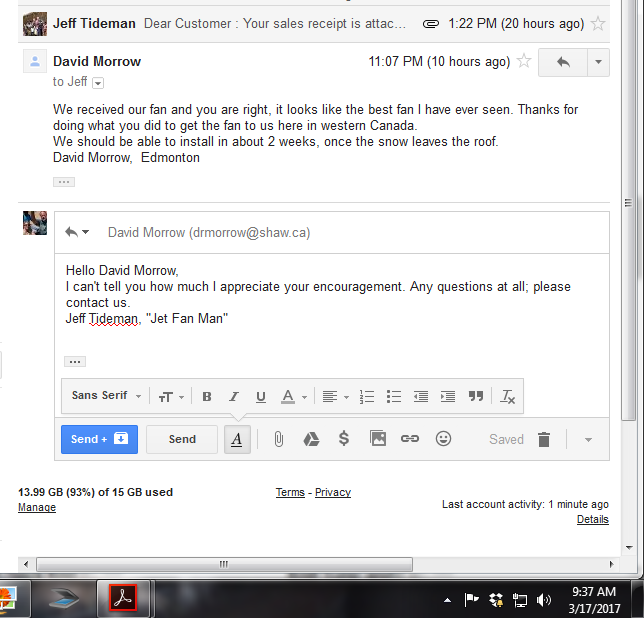 My wife and I recently retired to our dream home in Ocala, Florida. The build process took eight months and at last, we finally took possession and began the months-long activities one takes to make a house a home. During this time I noticed a low-frequency hum and vibration that seemed to permeate the house during the day. I asked the wife if she could hear it, "no." I asked others, no one could hear it. The low-frequency vibration actually seemed to be making me a little nauseous at times.
I found out that the house model we'd selected required an attic vent fan due to the limited passive ventilation; the full hip roofline had very few ridge vents. I located the breaker and turned off the fan and it was like a weight had been lifted off my shoulders. After that, anyone that claimed they couldn't hear the fan while it was running, agreed they could hear the silence when I turned it off. This fan was the cause of the vibration. I made a warranty claim.
The roofer brought a new fan out for me to bench test before the actual installation. I found that even though the assembly was good quality, the motor itself was an open architecture and only six poles – noise as a byproduct was inherent in the design.
I began looking for a replacement and found Jet-Fans USA. Ordered one and had it installed. I'm extremely happy to report that not only is the fan a little larger, but it is twice as efficient electrically as the stock fan (confirmed with an ammeter) Best of all it's quiet. Only a slight wind noise on the outside and next to nothing inside the house.
Now elephants deep in the African bush can rest easy without being bothered by the low-frequency humming, and our retirement sanctuary is not disturbed. Thanks, Jet-Fans!
Donald A Wright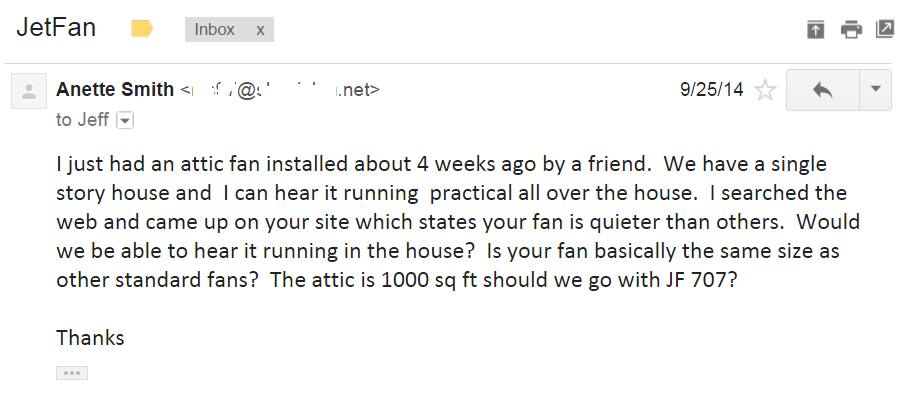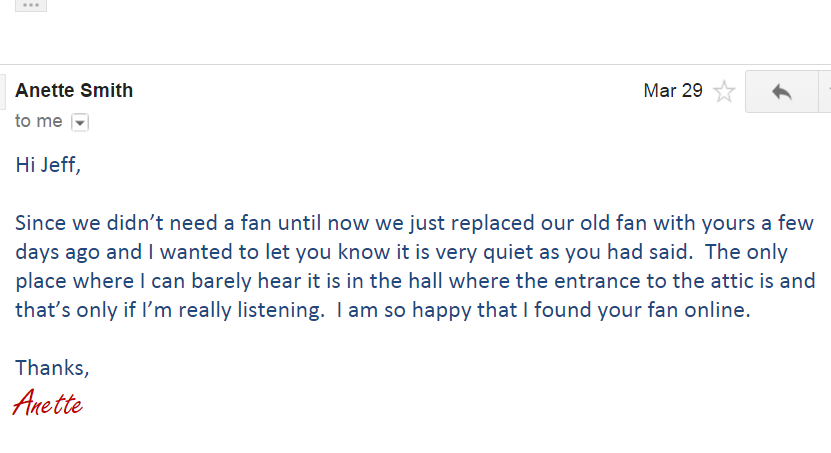 More Testimonials: Read more emails, Listen to my voice mails
http://jetfanusa.com/pages/Testimonials.aspx
Watch video testimonials
Dear jetfan_usa,JetFan Man,THANK YOU VERY, VERY MUCH, ( my attic temp hit 130 degrees F)!I scoured the all the local big box stores, all the hardware stores, etc., and the Web, looking for a quality Thermostat; – but they all sell the same China junk. My original one lasted 13 years, made in the USA. The "professional Master Flow" thermo that I bought burned out after only one season.I finally found your product, and I love the design of yours.
You darn well may have the "World's Best Attic Thermostat" available in today's marketplace.Thanks again, for your help. I look forward to installing it…and you can expect a Glowing Feedback from me.

– brickbox0
Dear stewbabe62,Hello stewbabe62
I have been dealing with attic fans since 1983 and the decibel rating doesn't really mean anything in practice. Every home is constructed differently and so a truss roof will transfer more sound to the ceiling than a regular framed roof. The vibration and motor hum are the only types of sound that are able to get into your rooms, air noise is completely muffled by the ceiling and the insulation. I can tell you that our fan, the Jet Fan is the quietest attic fan available for roof-top attic use in an unfinished attic because the motor doesn't make the awful humming that the cheap imported motors do. Many people are asking this question, so we may get it tested just so we can answer, but it won't change the fact that houses vary in sound levels experienced in the rooms.
Thanks for Asking.
Jeff Tideman, "Jet Fan Man"

– jetfan_usa